People
Amy Painter, M.B.A.
Research Associate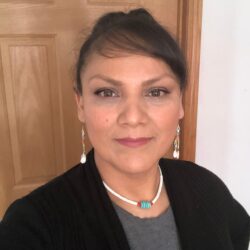 Amy Painter has nearly 20 years of experience in American Indian and Alaska Native community-based participatory research; project management; and program development, implementation, and evaluation. She has provided programmatic and evaluation technical assistance to tribes, tribal organizations, states, and territories.
As a research associate for the Tribal Evaluation Institute, Painter provides technical assistance to grantees of the Tribal Maternal, Infant, and Early Childhood Home Visiting Program. Topics include tracking and reporting benchmark performance measurements, building continuous quality improvement processes, and conducting rigorous evaluation projects.
Previously, Painter served as the director of substance abuse prevention at the Society of Care and as manager of tribal initiatives at Education Development Center. She has helped tribes, states, communities, and organizations build their capacity to develop culturally relevant, effective prevention efforts. She has also worked on a university research team focused on tribal public health initiatives, including cultural adaptation and development of tribally specific measures for data collection.
Painter is an enrolled member of the Winnebago Tribe. She received an M.B.A. from Wayne State College.