People
Caroline Davis, M.P.H.
Research Associate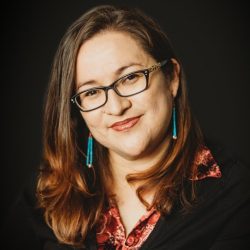 Caroline Davis has 10 years of experience in public health and evaluation, including community-based participatory research, program development and implementation, and capacity building. Much of her work has been with Native American/Indigenous communities. Davis' direct experience includes working with programs focusing on mental/behavioral health, maternal and child health, socioeconomic approaches to health, health equity, systems of care/care integration and continuity, and health career development. Her evaluation experience encompasses qualitative and quantitative methods and cultural considerations specific to Indigenous communities.
Davis works as a research associate for the Tribal Evaluation practice. As part of the Tribal Evaluation Institute project, she provides technical assistance to grantees of the Tribal Maternal, Infant, and Early Childhood Home Visiting Program. Topics include tracking and reporting benchmark performance measurements, building continuous quality improvement processes, and conducting rigorous evaluation projects.
Previously, Davis served as a program coordinator and lead evaluator for the Northern Arizona Area Health Education Center. While there, she designed and implemented the regional evaluation plan and consulted on a statewide evaluation plan of health care career pipeline programming. Davis is Diné (Navajo) from the Navajo Nation in northern Arizona. She received an M.P.H. from New Mexico State University College of Health and Social Services.