People
Hannah Simmons
Senior Continuous Quality Improvement Associate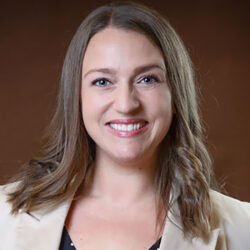 Hannah Simmons has 15 years of experience engaging government, early childhood, health, and community partners in cross-sector collaboration for systems change. She specializes in breaking down silos and improving outcomes through results-based facilitation, strategic planning, continuous quality improvement (CQI), change management, and family leadership. She has completed advanced training through the Institute for Healthcare Improvement (IHI) and directed numerous learning collaboratives based on the IHI Breakthrough Series model.
Simmons has developed and disseminated nine change packages and six toolkits to foster improvement in home visiting, early childhood, and health systems. Her project work has focused on improving child and family health, reducing racial disparities, and strengthening program coordination and service delivery. Her areas of expertise include strategic planning, CQI, change management, performance measurement, facilitation, training, and coaching.
Simmons currently serves as a task lead for the Early Childhood Systems Technical Assistance and Coordination Center; technical assistance specialist for the Maternal, Infant, and Early Childhood Home Visiting Technical Assistance Resource Center; and CQI specialist for the HealthySteps Outcome Pilot Project. In these roles, she provides tailored technical assistance, training, and coaching to support programs in building capacity for CQI, achieving desired results, and developing family leadership. She also helps develop resources, such as plans, briefs, toolkits, trainings, and presentations.
Prior to joining JBA, Simmons worked as the state CQI lead for the Minnesota Department of Health Family Home Visiting program. She received a B.S. in psychology and a B.S. in sociology and criminal justice from Iowa State University.