People
Lynn Mad Plume, M.P.H.
Research Associate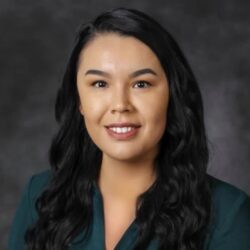 Lynn Mad Plume has more than 5 years of experience in health education and community engagement within diverse populations. She is Niitsitapi, residing on the Blackfeet Indian Reservation in Browning, Montana, and specializes in American Indian public health, maternal and child health, and program implementation.
Mad Plume supports the Tribal Home Visiting Evaluation Institute and Center for Indigenous Research Collaborations and Learning in Home Visiting projects. Prior to joining JBA, she worked as a community health representative for the Blackfeet Tribe. She also served as the diversity and equity coordinator at the University of North Dakota School of Medicine and Health Sciences.
Mad Plume received her M.P.H. with an American Indian public health specialization from North Dakota State University. She is currently pursuing her Ph.D. in Indigenous health at the University of North Dakota.