People
Matthew Frank, M.S.W., M.P.H.
Research Associate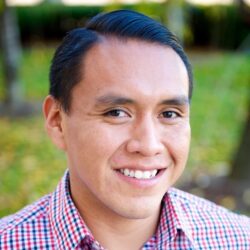 Matthew Frank has more than 10 years of experience in research translation for population health improvement and program development, implementation, and evaluation. He is an enrolled member of the Navajo Nation. Most of his work has been with American Indian/Alaska Native and Indigenous communities, and with LGBTQ+/two-spirit people. Frank's areas of expertise include community-based participatory research, community engagement and outreach, evaluation of programs and services, project management, mixed methodologies, grant development and administration, and organizational social work practice.
As a research associate for the Tribal Evaluation Institute, Matthew provides technical assistance to grantees of the Tribal Maternal, Infant, and Early Childhood Home Visiting Program and Tribal Personal Responsibility Education Program. Topics include tracking and reporting performance measurements, implementing continuous quality improvement processes, and conducting rigorous evaluation projects.
Prior to joining JBA, Frank worked as a research project coordinator, evaluator, and principal investigator at a tribal epidemiology center in Albuquerque, NM, and as an evaluation and research manager at an urban Indian health center in Portland, OR. He also worked as a social work instructor and health social worker.
Frank received an M.S.W. and M.P.H. at the Brown School, Washington University in St. Louis, and is pursuing a Ph.D. in social welfare at the University of Washington.