People
Wynette Whitegoat, M.S.W.
Research Associate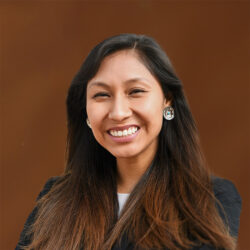 Wynette Whitegoat has more than 5 years of experience in technical assistance, higher education, and program management. A member of the Navajo Nation, she has experience working with tribal communities and organizations and other diverse populations, with a focus on preventive interventions to promote child and family well-being. Her expertise includes technical assistance on program implementation, community engagement and research, and development of materials for training and dissemination. Whitegoat also has experience conducting qualitative and quantitative data collection and analysis, and providing career development opportunities for social work and public health professionals.
Prior to joining JBA, Whitegoat worked at the Kathryn M. Buder Center for American Indian Studies, where she recruited, supported, and advocated for Indigenous social work and public health graduate students. She also worked at the Parents as Teachers National Center. She received her M.S.W. from the Brown School at Washington University in St. Louis, where she is pursuing her Ph.D.