People
Alexandria Smith, M.S.W.
Research Assistant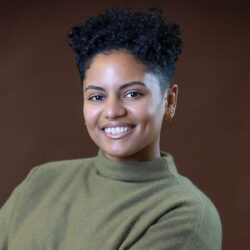 Alexandria Smith has a background in applied social science research and public health. Her experience includes clinical practice with children and families and LGBTQ community organizing. Smith's work centers around child welfare services and family development across all stages of life. Her skills include literature reviews, qualitative research, and implementation of antiracist and racial justice approaches to research implementation science.
Currently, Smith supports several projects, including the Infant-Toddler Court Evaluation, Cross-Center Evaluation of the Child Welfare Capacity Building Collaborative, and Ascend: HBCUs and TCUs Postsecondary Success for Parents.
Before joining JBA, Smith worked as a research assistant at Morgan State University. She received a B.F.A. from Pratt Institute and an M.S.W. from Morgan State University. She is a licensed master social worker.