News

|

October 7, 2020
Findings on Building Capacity in Child Welfare Now Available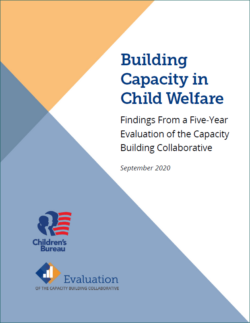 A new report, Building Capacity in Child Welfare: Findings From a Five-Year Evaluation of the Capacity Building Collaborative, details findings from a cross-center evaluation of services delivered by the Child Welfare Capacity Building Collaborative.
The Collaborative was established by the Children's Bureau in 2014 to help child welfare agencies and courts meet federal mandates; enhance child welfare practices; and improve child and family outcomes related to safety, permanency, and well-being. The Collaborative is a partnership of three Capacity Building Centers: the Center for Courts, Center for States, and Center for Tribes.
The report describes the Centers' capacity building services, recipients' satisfaction with services, and the outcomes of services. It also explores implications for the Collaborative and for future evaluations.