News

|

July 1, 2020
JBA Offers Guidance on Selecting and Working With an Evaluation Partner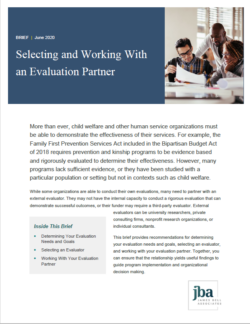 A newly released brief by James Bell Associates provides practical strategies for identifying, selecting, and working with qualified third-party evaluation professionals.
More than ever, child welfare and other human service organizations must be able to demonstrate the effectiveness of their services. For example, the Family First Prevention Services Act included in the Bipartisan Budget Act of 2018 requires prevention and kinship programs to be evidence based and rigorously evaluated to determine their effectiveness.
While some organizations are able to conduct their own evaluations, many need to partner with an external evaluator. This brief includes guidance for every step, from determining evaluation needs and goals to selecting an evaluator and developing a statement of work.