Resource |

Brief
Selecting and Working With an Evaluation Partner
This brief was developed to help child welfare and other human service organizations identify, select, and work with an evaluation partner to demonstrate the effectiveness of their services.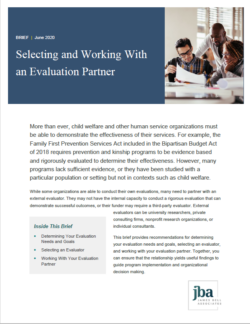 Since the Family First Prevention Services Act requires prevention and kinship programs to be evidence based and rigorously evaluated, organizations are increasingly finding the need to work with an evaluation partner. While some organizations conduct evaluations on their own, others may not have the internal capacity, or their funder may require an independent evaluation. External evaluators can be university researchers, private consulting firms, nonprofit research organizations, or individual consultants.
The brief includes guidance to assist organizations at every step, from determining evaluation needs and goals to selecting an evaluator and developing a statement of work.