People
Alva Gachupin, M.P.H.
Research Assistant-Coordinator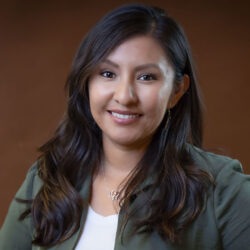 Alva Gachupin is an Indigenous health professional with 10 years of experience in public health. Her experience spans work in a tribal health setting, at the state level, and in the nonprofit sector. She contributes to research and evaluation projects as a research assistant-coordinator in the Tribal Evaluation practice area.
Prior to joining JBA, Gachupin led the evaluation of a youth leadership and development program by applying an Indigenous evaluation framework at the Notah Begay III Foundation. She also helped develop an Indigenous evaluation toolkit specific to youth programming.
Gachupin received her M.P.H. from the Mel and Enid Zuckerman College of Public Health at the University of Arizona.