People
April Khadijah Inniss, M.D., M.Sc.
Senior Research Associate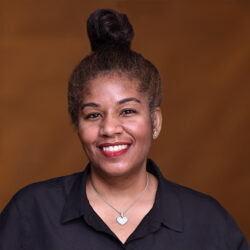 April Khadijah Inniss is a pediatrician with more than 10 years of experience as a mixed-methods researcher in racial equity and child and family health and development. She has designed and led research projects related to social determinants of health and well-being at the community and individual levels, most recently for Embrace Boston of The Boston Foundation.
At JBA, Inniss provides technical assistance to state awardees through the Maternal, Infant, and Early Childhood Home Visiting Technical Assistance Resource Center. For HealthySteps, she helps sites develop implementation plans aimed at quality assurance and fidelity. Inniss also supports Annie E. Casey Foundation grantees in developing or refining conceptual frameworks, including logic models and theories of change, and in developing implementation guides and fidelity metrics to prepare for expansion.
She received an M.Sc. in health services research from the University of Michigan as a Robert Wood Johnson Foundation Clinical Scholar. She received an M.D. from the University of Massachusetts Chan Medical School and completed her residency in pediatrics at Tufts Children's Hospital in Boston.