People
Terrica Dang-Mertz
Research Assistant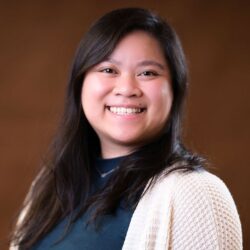 Terrica Dang-Mertz has a background in social science research and policy analysis, as well as experience in legal studies, education, and community organizing. Her work focuses on child welfare services, child development, and education. Her skills include literature reviews, qualitative research, and technical writing. She is fluent in Vietnamese.
Currently, Dang-Mertz supports several projects: Prenatal Alcohol and Other Drug Exposures in Child Welfare, Technical Assistance on Evaluation for Discretionary Grant Programs, Cross-Center Evaluation of the Child Welfare Capacity Building Collaborative, and Support for Ending Group Placement Study. She also supports a subcontract to the American Bar Association Center on Children and the Law to help develop national performance measures for child welfare courts, judges, and attorneys.
Prior to joining JBA, Dang-Mertz worked at George Mason University as a research assistant and at the Fairfax County Circuit Court Historic Records Center as an archivist intern. She received a B.A. in government and international politics at George Mason University.