Peer Health Exchange (PHE) is a national nonprofit—founded by young people for young people—to advance health equity and improve health outcomes.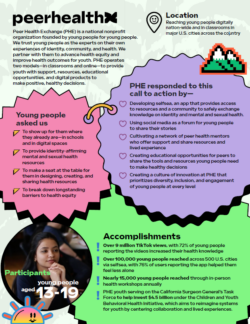 PHE trusts young people as the experts on their own experiences of identity, community, and health. In classrooms and digital spaces, the program offers youth support and resources so they can make healthy decisions. PHE features peer health mentors with lived experience and an app that helps youth safely share knowledge on identity and mental and sexual health. A culture of innovation prioritizes diversity, inclusion, and engagement of young people at every level.
This profile summarizes PHE's activities, accomplishments, and evaluation readiness. Being evaluation ready means a program has the knowledge, skills, and practices to test the effectiveness of its services. PHE has critical evaluation building blocks in place:
A fully articulated logic model that shows the pathways between services and expected outcomes
Ability to collect, track, organize, and analyze information across digital platforms
Experience with rigorous external evaluation
Investment in youth participatory evaluation
The Annie E. Casey Foundation invested in PHE as part of its Building Evidence to Advance Equity portfolio, which supports programs developed by leaders of color for communities of color.