Child welfare professionals address complex problems that often lack clear answers. Many could benefit from peer groups that allow them to connect around shared experiences with the aim of learning new information and strengthening their work with children and families. The Children's Bureau Capacity Building Collaborative offers several virtual communities of practice that use technology to unite child welfare professionals regardless of where they live and work.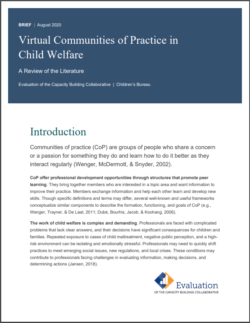 This literature review summarizes the research on these communities—both within and outside the field of child welfare—to explore potential participant outcomes and what contributes to their success. Key findings span five areas: membership, participation, knowledge management and creation, learning, and practice.  Examples include—
Established communities with active participation are likely to attract new members.
Facilitation strategies can be used to help members engage with and learn from other group members.
Members of online communities may value and seek opportunities to cocreate ideas and practice approaches with others.
Members can bring changes in processes and practice to the workplace, which can contribute to improved organizational capacity.
Research methods used in other fields suggest new opportunities for studies of communities in child welfare.
The literature review concludes with recommendations for identifying and maintaining virtual communities and directions for future research and evaluation.