News

|

May 14, 2018
Guide to Data-Driven Decision Making Now Available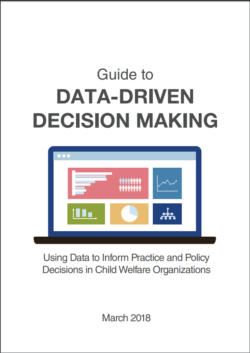 JBA has produced a new publication to help professionals in child welfare and other human services fields make better decisions using data.
The Guide to Data-Driven Decision Making: Using Data to Inform Practice and Policy Decisions in Child Welfare Organizations draws on the experiences of Children's Bureau grantees and includes vignettes that illustrate data-driven decision making (DDDM) in action. It was produced as part of the Technical Assistance on Evaluation for Children's Bureau Discretionary Grant Programs project, which is funded by the Children's Bureau, Administration for Children and Families.
Chapter 1 provides an overview of DDDM.
Chapter 2 explains how to formulate questions and develop a plan to test those questions using a theory of change and logic model.
Chapters 3–5 cover the steps for implementing DDDM: collecting and analyzing data; communicating results; and refining processes, organizations, or systems.
The guide also features self-assessment questions, checklists, resources, a glossary, and sample data-sharing documents that can be adapted for various settings.
For an introduction to DDDM, see the accompanying video series.