News

|

April 20, 2020
New Tool Helps Tribes and Others Assess Collaboration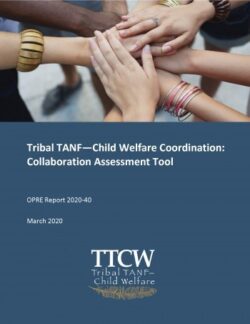 A new Collaboration Assessment Tool was developed as part of the Tribal Temporary Assistance for Needy Families (TANF)–Child Welfare Coordination Data Capacity Building project to be a resource for tribal grantees and other human services programs.
Taking a periodic assessment of the level at which partnerships are operating helps organizations strengthen their partnerships and identify priority areas for improvements.
The tool is intended to help identify and operationalize various collaboration constructs, monitor collaboration efforts, and measure and track progress on collaboration and coordination. Detailed instructions are provided on options for completing, scoring, and interpreting the results.
The tool assesses progress in eight areas or categories of indicators:
Relationships and communication
Information sharing
Staff training
Screening and assessment
Case planning and case management
Coordinated delivery of services
Information systems
Additional indicators
The project is funded by the Office of Planning, Research, and Evaluation (OPRE), Administration for Children and Families. The tool is also available on the OPRE website.