Child welfare legal professionals can better prepare for and participate in court hearings if they understand how hearing quality affects the case process and outcomes.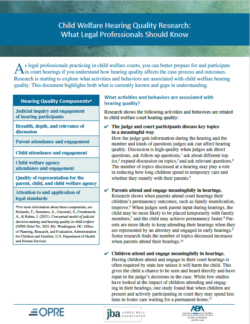 This document explores available research about the activities and behaviors associated with hearing quality, such as meaningful discussion of key topics, parent and child attendance and engagement, and quality legal representation. It also highlights areas for future research, for example—
How judges and attorneys apply legal and professional practice standards
How the depth and breadth of discussion at court hearings influence case processing and outcomes
Whether addressing specific topics at hearings influences case processing and outcomes
The role of racial and ethnic bias in judicial decision-making and hearing quality
Whether and how judicial engagement of parents at hearings later in the case affects case processing and outcomes
Readers interested in learning more about hearing quality components can refer to a conceptual model developed as part of the project.