In the field of child welfare, systems change refers to changes in thinking, practice, policies, and procedures that enhance performance and reduce service barriers to children and families at risk of entering—or currently involved in—the child welfare system.
For example, common systems change activities include—
Establishing multidisciplinary teams to collaborate on child welfare cases
Instituting a new safety and risk assessment approach
Launching a centralized intake unit
Implementing a system-wide practice model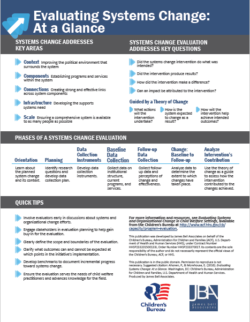 This brief explores challenges and strategies for evaluating systems and organizational change in child welfare. Developed to support Children's Bureau grantees testing innovative approaches to child welfare service delivery, it draws on current evaluation literature and the experiences of federally funded child welfare agencies to highlight key steps in the evaluation process. These include articulating a theory of change, formulating clear research questions, and identifying appropriate data indicators and benchmarks of progress.
The accompanying infographic outlines systems change evaluation at a glance.