Judges presiding over child welfare cases must decide whether the child welfare agency made reasonable efforts to (1) prevent removal of the child from the home and (2) finalize the child's permanency goal.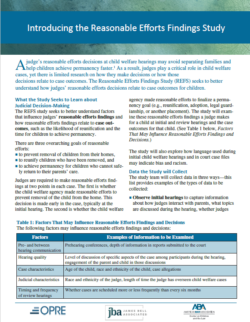 The Reasonable Efforts Findings Study (REFS) will examine judges' findings at initial and review hearings and the associated case outcomes for children. It will also explore how language used during initial hearings and in court case files may indicate bias or racism.
This publication summarizes key study details—including data collection methods and sample size—for a legal audience and outlines the study's potential importance to the legal community. It also highlights factors that may influence reasonable efforts findings and decisions, including several introduced in a 2021 conceptual model of judicial decision-making and hearing quality in child welfare.