News

|

December 3, 2020
JBA Report Featured in National Conversation on the Arts' Potential Role in Curbing the Opioid Epidemic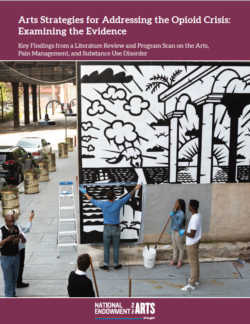 "With an estimated more than 450,000 dying from opioid overdoses in the past 10 years, we need to look at every resource available. The arts provide another tool in the arsenal to help fight this epidemic," says Mary Anne Carter, chairman of the National Endowment for the Arts. The agency recently issued a new report prepared by JBA based on a literature review spanning 20 years and a program scan.
Arts Strategies for Addressing the Opioid Crisis: Examining the Evidence centers on arts' use in pain management and the prevention and treatment of substance use disorders. It examines studies and programs that demonstrate the arts' role in improving the physical symptoms, psychological health, and personal relationships of individuals with pain or substance use disorder.
Carter shared two report findings related to music-based interventions in the November 19 episode of her weekly podcast:
Music listening was shown to reduce postoperative pain, chronic pain, and the need to take pain medication.
Music was also shown to improve readiness and motivation for substance use disorder treatment and to reduce cravings.
Read the full report, written by Colleen Morrison, Kirsten Keene, and Julie Leis, to see additional findings and to learn about eight programs that use the arts to address pain management or substance use disorder prevention or treatment.