Prompted by the nation's opioid crisis, this National Endowment for the Arts report reviews and analyzes 20 years of evidence about the arts' use in pain management and in treatment of substance use disorders (SUDs); it also highlights promising arts-based strategies in these practice areas.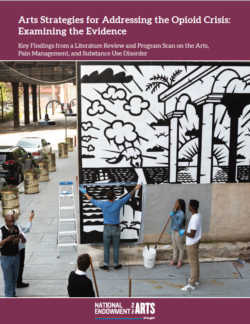 The report examines studies and programs that demonstrate the arts' role in improving physical symptoms, psychological health, and personal relationships. It features a literature review of 116 articles, overviews of 8 ongoing programs, and an examination of gaps and opportunities for further research. A group of researchers and practitioners from various fields provided input.
Key Findings From the Literature
Of the 116 articles that were eligible for inclusion, 88 percent featured a music-based intervention.
Music listening was shown to reduce post-operative pain, chronic pain, and the need to take pain medication. This finding is particularly important because patients often receive opioid therapy to treat an acute problem and then transition into chronic use.
Music was also shown to improve readiness and motivation for SUD treatment and to reduce cravings.
When offered in combination with behavioral therapies, medications, and recovery support services, music can improve treatment outcomes for patients with opioid use disorder.
Positive Outcomes Identified Among Programs Studied
Preventing or reducing the need for prescribed opioids for those with chronic pain through regimes that include tapering efforts
Building psychological protections to prevent opioid use by engaging young people in the arts to develop positive life skills
Addressing the stigma of use within the community and promoting recovery
Recommendations
Future studies should examine the impact of other arts-based interventions, including music.
Researchers should establish core outcomes, metrics, and reporting guidelines.
Research is needed to examine the arts' role in SUD prevention and interventions for opioid use disorder, and to assess how the benefits of music-based interventions are maintained over time.
Visit the NEA's website to read the full report.