People
Natalie Moyer, M.S.W.
Research Assistant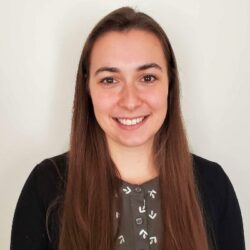 Natalie Moyer has more than 5 years of experience in social work and early childhood education. Her direct experience includes several years working in various early childhood development programs. Skills include quantitative and qualitative data methods. She currently works as a research assistant for the Tribal Evaluation practice area.
Prior to joining JBA, Moyer worked as a research assistant at the Center for Innovation in Child Maltreatment Policy, Research and Training at Washington University in St. Louis. In that role, she managed a project proposed by partners at the National Indian Child Welfare Association and provided strategic planning and evaluation support to another partner organization in the St. Louis community. Moyer has also contributed research, writing, and capacity-building support to We Stories, an anti-racist community-based organization, and the National Native Children's Trauma Center.
Moyer is of mixed European, Indigenous Mesoamerican, and Wampanoag heritage; she was born and raised on Lenape land in northeastern Maryland. She received her M.S.W. from Washington University in St. Louis, where she was a Kathryn M. Buder Center for American Indian Studies scholar.