People
Natalie Moyer, M.S.W.
Research Associate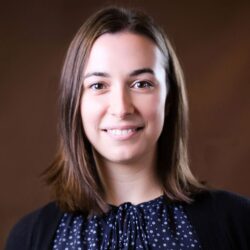 Natalie Moyer spent 4 years working in early childhood education before transitioning to a career in macro-level social work. She works in the Tribal Evaluation practice area.
Previously, she was a research assistant at the Center for Innovation in Child Maltreatment Policy, Research, and Training at Washington University in St. Louis. In that role, she managed a project involving the National Indian Child Welfare Association and provided strategic planning and evaluation support to a partner organization. Moyer has also provided research, writing, and capacity-building support to We Stories, an anti-racist community-based organization, and the National Native Children's Trauma Center in Missoula, MT.
Moyer is of mixed European (Irish, Czech, Danish) and Indigenous (from present-day Nicaragua and Massachusetts) descent. She was born and raised on Lenape land in northeastern Maryland. She received her M.S.W. from Washington University in St. Louis, where she was a Kathryn M. Buder Center for American Indian Studies scholar.