The COVID-19 pandemic forced home visiting programs to transition quickly from in-person services to virtual delivery. As the field weighs the continued role of virtual visits going forward, there is a need to define what quality implementation looks like when participants are in different locations.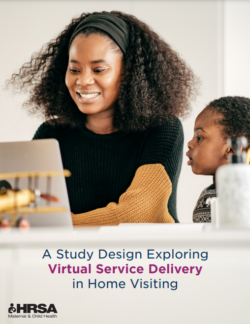 This report presents a sample study design focused on the types of supports needed to implement services virtually while maintaining implementation quality and model fidelity. Related information includes—
A summary of prior studies on virtual service delivery in home visiting
Details about the sample needed, data sources and measurement options, and an analysis plan
Practical considerations
Implications of findings
Summary of next steps
The report is part of a project conducted by JBA and Child Trends under the direction of the Health Resources and Services Administration and the Administration for Children and Families. Previous publications include a literature and measure review of quality considerations for home visiting implementation and a conceptual framework.