Con Mi MADRE is a two-generation program providing girls, nonbinary students, and their mothers the resources and support they need to navigate the educational pipeline to postsecondary success and beyond.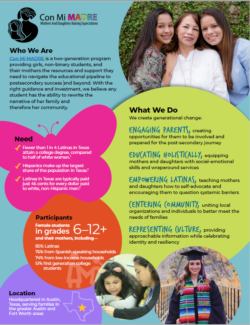 This resource summarizes Con Mi MADRE's activities and key accomplishments, including the following:
9 in 10 participants graduated from high school
7 in 10 participants enrolled in college the following semester
Participants in college demonstrated a retention rate over 90%
The Annie E. Casey Foundation invested in Con Mi MADRE as a Building Evidence to Advance Equity grantee to build evaluation capacity. The program has the knowledge, skills, and practices to test the  effectiveness of its services.