The Children's Bureau calls for the meaningful engagement of families in the design, planning, and implementation of services at all levels of the child welfare system.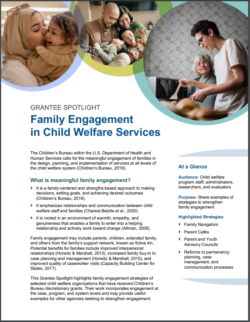 This Grantee Spotlight shares examples of family engagement strategies used by several Children's Bureau grantees that may be useful for other agencies seeking to strengthen their engagement efforts.
What is meaningful family engagement?
It is a family-centered and strengths-based approach to making decisions, setting goals, and achieving desired outcomes.
It emphasizes relationships and communication between child welfare staff and families.
It is rooted in an environment of warmth, empathy, and genuineness that enables a family to enter into a helping relationship and actively work toward change.
Family engagement may include parents, children, extended family, and others from the family's support network, known as fictive kin. Potential benefits include improved interpersonal relationships, increased family buy-in to case planning and management, and improved quality of caseworker visits.