A small but growing research base points toward home visiting's key role in the continuum of services for families using opioids.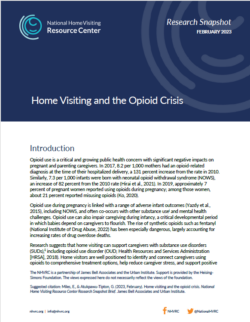 For example, home visitors can build on their trusting relationships with families to identify opioid use, link caregivers to comprehensive treatment options, and help reduce caregiver stress. They can also support positive parenting practices and nurturing relationships with children.
This Research Snapshot Brief summarizes the available research to address key questions:
What stressors do families using opioids face?
What is home visiting's role in addressing opioid use?
What challenges do home visitors encounter serving families using opioids?
How can home visiting programs better reach and serve families using opioids?