Resource |

Report
Implementation of Evidence-Based Early Childhood Home Visiting: Results from the Mother and Infant Home Visiting Program Evaluation
Authors:
Anne Duggan
Ximena A. Portilla
Sarah Shea Crowne
Carolyn J. Hill
Helen Lee
Virginia Knox
Project:
Mother and Infant Home Visiting Program Evaluation
Children develop fastest in their earliest years. Early skill-building can lay the foundation for future success, while negative experiences can contribute to poor social, emotional, cognitive, behavioral, and health outcomes in early childhood and later in life. Children growing up in poverty tend to be at greater risk of adverse experiences that negatively affect development.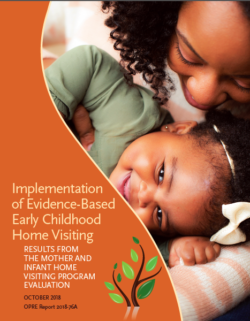 Home visiting provides information, resources, and support to expectant parents and families with young children in their home environments. Research points to positive effects of home visiting on family functioning, parenting, and child outcomes. However, there are many gaps in knowledge about home visiting programs, including a lack of information on program implementation.
This implementation research report describes the local programs, home visiting staff, and families participating in the Mother and Infant Home Visiting Program Evaluation (MIHOPE), which evaluates the federal Maternal, Infant, and Early Childhood Home Visiting Program (MIECHV).
MIHOPE examines how the program features and implementation systems of four evidence-based home visiting models correlate with services and impacts. MDRC conducts the national evaluation in partnership with JBA, Johns Hopkins University, Mathematica Policy Research, the University of Georgia, and Columbia University.
Key findings in the report include:
MIECHV-funded local programs served families in disadvantaged communities with high levels of risk. Mothers participating in MIHOPE tended to be young, economically disadvantaged, and exhibited a variety of risks that could affect their children's development.
Similar to prior research, families in MIHOPE participated in home visiting for eight months on average, which is less than expected by the four evidence-based models in the study. More disadvantaged families tended to participate for a shorter time than other families.
Local programs focused on improving parenting and child development outcomes, areas historically emphasized by all four of the evidence-based models. A majority of visits discussed these topics. Home visitors attended more training and felt most well-supported and effective in improving parenting and child development compared with other areas.
Services related to sensitive topics were tailored to family needs. Home visitors addressed sensitive topics such as substance use, mental health, or intimate partner violence more often with families who were more likely to need help in these areas compared with other families. Home visitors who attended training on these topics addressed them more often with families.