Latin American Youth Center's Promotor Pathway is a culturally competent model for cultivating trusting relationships with youth to support success in education, employment, and healthy behaviors.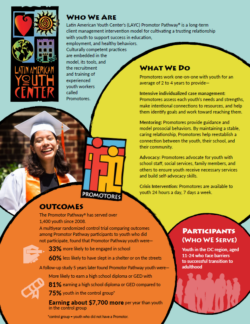 Experienced Promotors work one-on-one with youth for 2–4 years to provide intensive individualized case management, mentoring, advocacy, and crisis intervention. The program has been rigorously evaluated and is evidence based.
This profile summarizes Promotor Pathway's activities and accomplishments. The Annie E. Casey Foundation invested in Latin American Youth Center as part of its Building Evidence to Advance Equity portfolio, which supports programs developed by leaders of color for communities of color.