This brief presents case study research on efforts by afterschool programs to promote physical health.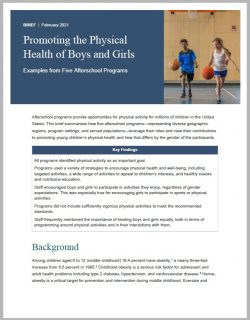 Observations and interviews at five afterschool sites revealed a variety of strategies to encourage physical health including targeted activities, a range of activities to appeal to kids' interests, and healthy snacks and nutritional education. Staff encouraged boys and girls to participate in activities they enjoy, regardless of gender expectations, particularly sports or physical activities. Overall, programs did not include sufficiently vigorous physical activities to meet the recommended standards.
A collaboration by the U.S. Department of Health and Human Services Office of the Assistant Secretary for Planning and Evaluation and Office of Women's Health, the Improving Programs, Policies, and Services to Promote Healthy Development in Middle Childhood in Afterschool Settings project examined how relevant federal investments support local efforts. The study focused on the extent to which evidence-based interventions are implemented in afterschool programs; promising practices for administering, improving, and sustaining these interventions; and how programs can better address the needs of boys and girls.