The home visiting field widely emphasizes reflective supervision—ongoing, thoughtful collaboration between home visitors and their supervisors—to help improve a range of outcomes.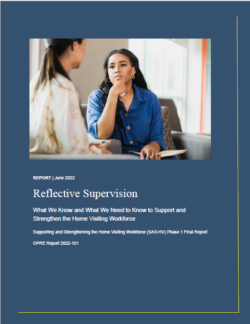 This report seeks to build understanding of reflective supervision and its potential role in supporting and strengthening the home visiting workforce. It summarizes relevant research and measures in home visiting and related fields to gauge notable gaps in the current knowledge. For example:
There is limited research on reflective supervision in any field, making it difficult to generalize findings to the home visiting context. The research typically focuses on professionals providing infant and early childhood mental health services, including many with advanced degrees and other training.
The research does not support causal relationships between reflective supervision and outcomes for staff, programs, and families. Instead, it is mostly conceptual, descriptive, or correlational.
Eleven self-report and observational measures evaluate some element of reflective supervision, but none have been well validated.
Significant variation exists among the 40+ available trainings on reflective supervision.
The authors also developed a conceptual model that offers a framework for considering and defining reflective supervision in home visiting, and contributing to evidence-informed strategies and resources to support implementation. The model includes five categories of key elements hypothesized to influence outcomes for staff, programs, and families.