A well-articulated theory of change and logic model provide the foundation for data-driven decision making—using data to plan, monitor, and improve programs.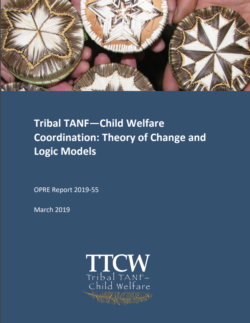 A theory of change is a roadmap that describes how a program will achieve its goals, while a logic model is a set of directions that translates the theory of change into the "language" of data collection and progress monitoring.
This tool provides step-by-step guidance for Tribal Temporary Assistance for Needy Families (TANF)-Child Welfare Coordination grantees and others on developing a theory of change and logic model. It includes strategies for measuring program outputs (are the targeted activities occurring?) and outcomes (are the desired changes occurring?). The tool concludes with a discussion on how and why to revisit a logic model so that it remains relevant throughout the life of a program. Examples, worksheets, and resources are provided.