People
Amanda Eastern, Ph.D., M.S.
Research Associate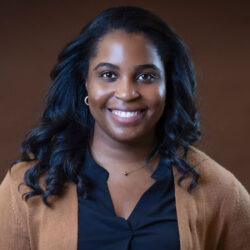 Amanda Eastern has a background in applied social science research and early childhood policy analysis. Her areas of expertise include qualitative research methodology, literature reviews, data collection and analysis, and technical assistance. She has worked on various projects related to exploring the early educational experiences of diverse families and building stronger systems of early childhood care at the local and state levels.
Currently, Eastern supports several projects in the Child and Family Development practice area: HealthySteps; Maternal, Infant, and Early Childhood Home Visiting (MIECHV) Technical Assistance Resource Center; MIECHV Innovations Technical Assistance Center; and the Get Ready Guilford Initiative. Through this work, she helps develop universal technical assistance resources; reviews performance measures, budgets, and continuous quality improvement plans for awardees; conducts systematic literature reviews; and leads the compilation of reports, products, and environmental scans for innovative home visiting and child and maternal health initiatives.
Prior to joining JBA, Eastern worked as a policy analyst and research assistant conducting and synthesizing research on early childhood policy issues. She received a Ph.D. and M.S. in human development and family studies from the University of North Carolina Greensboro.