The 2021 Home Visiting Yearbook compiles key data on early childhood home visiting, a proven service delivery strategy that helps children and families thrive. It features updated information from robust data sources, including 15 evidence-based and 10 emerging models.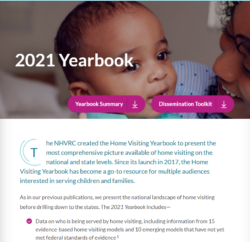 Key takeaways include—
Evidence-based home visiting was implemented in all 50 states, the District of Columbia, 5 territories, 22 tribal communities, and 53 percent of U.S. counties in 2020, despite the COVID-19 pandemic forcing most programs to provide services virtually.
More than 298,000 families received evidence-based home visiting services in 2020, over the course of more than 3.2 million home visits. Roughly half of those home visits were provided virtually, although the percentage is likely much higher due to challenges differentiating virtual and in-person visits in some data systems.
More than 22,500 home visitors and supervisors delivered evidence-based services nationwide in 2020.
Of the more than 17.6 million pregnant women and families (including nearly 23 million children) who could benefit from home visiting, roughly 300,000 received services in 2020.
The American Rescue Plan Act of 2021 allocated $150 million to help home visiting programs support families recovering from the COVID-19 pandemic. The federal Maternal, Infant, and Early Childhood Home Visiting (MIECHV) Program will distribute these funds to help programs continue and expand services, meet families' basic needs, address the well-being of their workforce, and more.
In 2020, MIECHV helped fund services for more than 71,000 families in states, territories, and tribal communities—a portion of the total families served by home visiting that year.
States continue to support home visiting by combining funds from tobacco settlements and taxes, lotteries, and budget line items.
Yearbook data reflect home visiting in 2020, when most programs transitioned to virtual service delivery as in-person services were suspended. See the publication's Statement on COVID-19 for more information, and read the full Yearbook online.