Resource |

Brief
Addressing Maternal Depression in the Context of Home Visiting: Opportunities and Challenges
Authors:
Rebecca Peters
Devon Genua
Project:
National Home Visiting Resource Center
Maternal depression is a widespread public health concern that can negatively affect mothers and their families. In 2011, a national survey found that 10 percent of mothers had experienced depression in the previous year. Within home visiting programs serving low-income women, maternal depression rates have been measured as high as 61 percent.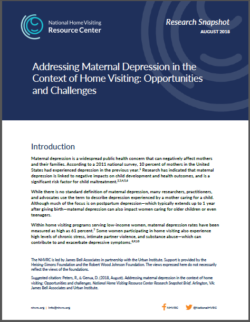 This NHVRC brief combs the literature to address three questions:
Why should home visiting programs address maternal depression?
How can home visiting programs address maternal depression?
What are the implications for research and practice?
It conveys home visitors' unique position to help mothers experiencing depression, often by providing screenings and referrals to community services. Program enhancements such as cognitive behavioral therapy are also explored as a means to connect parents to professional treatment.