Home visitors come from various fields, but their daily work requires knowledge, skills, and attributes not linked to any particular discipline or degree. Core competency frameworks provide a shared language and set of expectations for the home visiting workforce by outlining the inherent "parts of the job."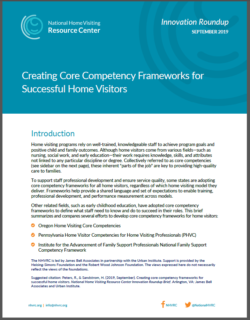 This NHVRC brief highlights several efforts to develop core competency frameworks to support professional development and high-quality services:
Oregon Home Visiting Core Competencies
Pennsylvania Home Visitor Competencies for Home Visiting Professionals
Institute for the Advancement of Family Support Professionals National Family Support Competency Framework
Read the full brief to learn about each effort's goals/purpose, key stakeholders, notable details, and implications. There is also a crosswalk of core competency domains.