Resource |

Brief
Home Visiting's Impact on Parental Capacity and Child Development: Measurement Options and Recommendations
Authors:
Deborah Daro
Sacha Klein
Tiffany Burkhardt
Project:
National Home Visiting Resource Center
Pew Charitable Trusts developed the Pew Data Performance Initiative in 2013 as one of the first national efforts to identify and pilot test common home visiting performance indicators. The initiative, part of Pew's home visiting campaign, engaged a number of noted researchers in the field.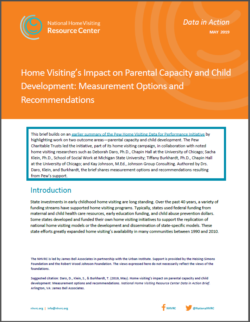 This brief presents measurement options and recommendations for monitoring the effects of home visiting in two key areas:
Parental capacity
Child development
Written by the initiative's co-project directors and a collaborative research partner, it recaps the team's process for identifying and reviewing measurement options for both areas and outlines recommended measures.