Many home visiting programs recognize the need for reflective supervision—ongoing, thoughtful collaboration between home visitors and their supervisors—but lack resources to put it into practice.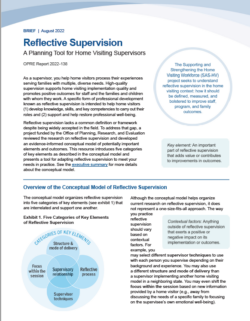 This brief presents a tool for supervisors looking to plan, conduct, and reflect on sessions with home visitors. It builds on a conceptual model that includes five key elements of reflective supervision: structure and mode of delivery, focus within the session, supervisory relationship, reflective process, and supervisor techniques.
Users are encouraged to record goals and contextual factors for each session in the tool, along with notes on relative key elements. A sample completed tool is provided in the appendix.