The U.S. Department of Health and Human Services has integrated trauma-informed approaches into a growing number of federal initiatives and programs; similar changes are happening at the state and community levels.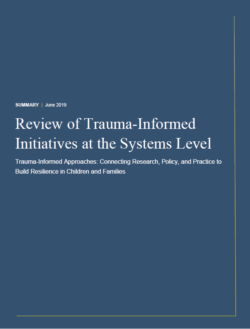 These efforts often occur in silos, however, preventing stakeholders from learning from—and building on—each other's work.
This research summary explores trauma-informed initiatives at the systems level and summarizes common program activities, targeted outcomes, and evidence of progress toward those outcomes.