Diaper need—i.e., not having enough diapers to keep an infant or child clean, dry, and healthy—is a common problem that can impact children's physical and developmental health, parent mental health, and family economic well-being.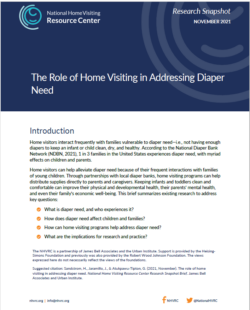 Home visitors can help alleviate diaper need because of their frequent interactions with families of young children. Home visiting programs can partner with local diaper banks to help distribute supplies directly to parents and caregivers.
This NHVRC brief summarizes existing research to address key questions:
What is diaper need, and who experiences it?
How does diaper need affect children and families?
How can home visiting programs help address diaper need?
What are the implications for research and practice?
Read the full brief to discover four promising strategies to address this important issue.