People
​Yuan Wang, M.S.
Senior Research Analyst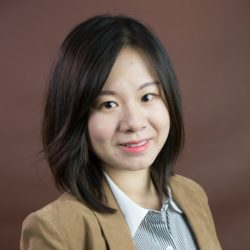 Yuan Wang has nearly 15 years of experience in applied statistical research, quantitative research, complex survey design and sampling, large-scale data manipulation, multilevel modeling, data analysis, and database development. Her areas of content expertise include tribal evaluation, home visiting, child welfare, and maternal and child health.
Wang has supported various JBA projects through her skills in cost analysis, quantitative data analysis, database development/management, and statistical modeling. She currently serves as a statistical analyst for the Multisite Implementation Evaluation of Tribal Home Visiting and National Home Visiting Resource Center projects. She also leads the secondary data analyses on the Parents as Teachers Exploring Family Level Trends Project and Parents as Teachers MIHOPE Data Mining Project. She has previously worked as a data analyst and database administrator on the Mother and Infant Home Visiting Program Evaluation (MIHOPE), MIHOPE-Strong Start, and Permanency Innovations Initiative Evaluation projects.
Wang received an M.S. in statistics from George Washington University.