People
Heather Johnson, Dr.P.H., M.P.H.
Research Associate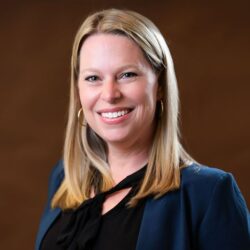 Heather Hudspeth Johnson has more than 10 years of experience planning, implementing, and evaluating maternal and child health programs. She has worked on numerous projects in the areas of home visiting and maternal and child health. She has expertise in continuous quality improvement (CQI), data collection and analysis, and collaborations with interested parties, such as home visitors, federal home visiting awardees, model developers, and families.
Currently, Johnson supports the Home Visiting Applied Research Collaborative's work to advance precision home visiting. She serves as the Region V data and CQI technical assistance specialist for the Maternal, Infant, and Early Childhood Home Visiting Technical Assistance Resource Center. Johnson also served as a task lead for the Support for the Discretionary Grant Information System Office of Management and Budget Package project. In that role, she led pilot testing efforts to gather feedback and time burden estimates on redesigned forms.
Johnson has experience at multiple levels of the home visiting system. Prior to joining JBA, she worked as the home visiting data and implementation team lead and as the director of CQI for Alabama's home visiting programs. She previously served as a home visitor and program supervisor for a home visiting program in Birmingham. Johnson received an M.P.H. and Dr.P.H. in health policy and organization/maternal and child health policy and leadership at the University of Alabama at Birmingham School of Public Health.