People
Heather Johnson, M.P.H.
Research Associate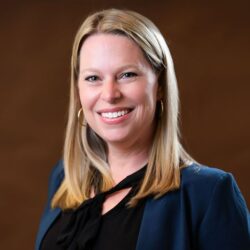 Heather Hudspeth Johnson has more than 10 years of experience planning, implementing, and evaluating maternal and child health programs. She has worked on numerous projects in the areas of home visiting and maternal and child health. Her areas of expertise include program evaluation, technical assistance, data collection and analysis, and continuous quality improvement (CQI).
Currently, Johnson supports the Home Visiting Applied Research Collaborative's work to advance precision home visiting. As part of the Maternal, Infant, and Early Childhood Home Visiting Technical Assistance Resource Center, she provides data and CQI technical assistance support and acts as an improvement advisor for the CQI practicum. Johnson also serves as a task lead and technical assistance provider for the California Home Visiting Coordination project, supporting coordination efforts among agencies providing home visiting and family support services in the state's early childhood system of care.
Prior to joining JBA, Johnson worked as the home visiting data and implementation team lead and as the director of CQI for Alabama's home visiting programs. She previously served as a home visitor and program supervisor for a home visiting program in Birmingham. She received an M.P.H. in 2013 and is a doctoral candidate in Health Care Organization and Policy/Maternal and Child Health at the University of Alabama at Birmingham School of Public Health.