The concept of home visitor professional well-being spans several dimensions, notably job satisfaction, psychological well-being, job meaning and fulfillment, and self-efficacy and confidence.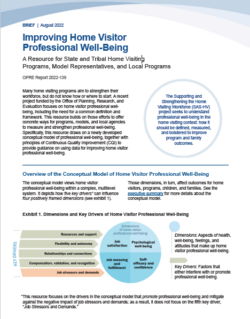 This brief offers concrete ways for home visiting programs, models, and local agencies to measure and strengthen professional well-being by focusing on key drivers of these dimensions. Readers are encouraged to follow three key steps:
Identify a driver for improvement.
Select a strategy to address the identified driver.
Develop a plan to implement the strategy and track improvement.
Tools include a list of measures and suggested strategies tailored to the home visiting context.