Like many fields, home visiting increasingly recognizes the potential connection between outcomes and the well-being of its workforce.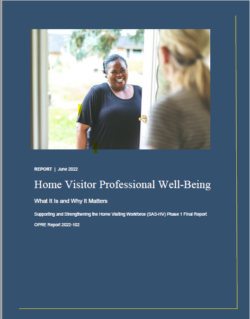 This report seeks to move the dial on how to support and strengthen professional well-being in home visiting. It summarizes relevant research and materials in home visiting and related fields to gauge current understanding and notable gaps. For example:
Most studies focus on common workforce concerns, such as burnout and turnover, rather than defining or examining professional well-being in all its dimensions.
Most of the literature highlights correlation, rather than causation, between workplace factors and outcomes.
No measures were designed to assess aspects of professional well-being in the home visiting context.
Materials center on stress management rather than structural, organizational, or systemic approaches for promoting professional well-being.
The authors also developed a conceptual model of professional well-being within the complex home visiting system. The model includes five key drivers of dimensions hypothesized to influence outcomes at the home visitor, program, family, and child levels.