Home visiting programs support healthy family functioning by helping families provide stimulating early learning environments and nurturing relationships for their children. These factors, in turn, have profound effects on children's physical, social-emotional, and cognitive development.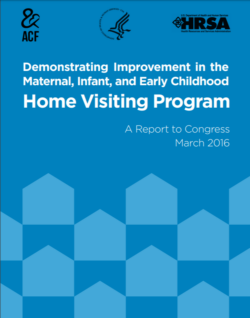 The Maternal, Infant, and Early Childhood Home Visiting Program (MIECHV) is a significant expansion of federal funding for voluntary, evidence-based home visiting programs for expectant families and families with young children up to entry into kindergarten. The program is administered by the Health Resources and Services Administration (HRSA) Maternal and Child Health Bureau in collaboration with the Administration for Children and Families (ACF).
Since 2010, HRSA has awarded grants to 47 state agencies, the District of Columbia, 5 territories, and 3 nonprofit organizations. Each year, 3 percent of funds are set aside for the Tribal Home Visiting Program, which is administered by ACF through awards to 25 tribal grantees (see Tribal Maternal, Infant, and Early Childhood Home Visiting: A Report to Congress for details). An additional 3 percent of funds are set aside for research and evaluation projects, including the national Mother and Infant Home Visiting Program Evaluation (MIHOPE), administered jointly by ACF and HRSA.
MIECHV funds state and tribal grantees to implement evidence-based home visiting models and promising approaches, generate additional evidence through research, and use evidence to guide improvement initiatives.
Program Growth and Expanded Reach of Home Visiting Among State Grantees
MIECHV substantially expanded evidence-based home visiting services and supports to some of the nation's most vulnerable children and families. In comparison to the first year of data collection in fiscal year (FY) 2012, in FY 2014 state grantees tripled the number of home visiting program participants (115,545 participants) and quadrupled the number of home visits provided (746,303 home visits). In 2014, state grantees served nearly one-quarter of U.S. counties (721 counties) and approximately one-third of at-risk counties (274 counties). The program served high-risk families, with data from FY 2014 indicating that most families served by state grantees were economically poor (79 percent below federal poverty guidelines), young parents (55 percent under 25 years old), single (69 percent), unemployed (66 percent), and educated with a high school diploma or General Education Development (GED) certificate (35 percent) or less than a high school diploma level (34 percent).
For families that face multiple demographic stressors and often lack resources and social support, research indicates that home visiting can help lay the foundation for family resilience and healthy developmental trajectories by partnering with families to establish positive parenting practices and parent-child relationships while also addressing individual family needs, such as child developmental delays and caregiver mental health or substance abuse.
Program Performance and Improvement Among State Grantees
MIECHV legislation requires grantees to demonstrate measurable improvement among participating families in at least four of six benchmark areas after 3 years of program implementation. HRSA and ACF detailed each benchmark area to include multiple constructs that are specific, measurable indicators that further define each benchmark area.
Grantees developed performance measurement plans detailing their approach for collecting, analyzing, and reporting performance data in the six legislatively mandated benchmark areas. They selected or developed their own performance measures for each construct to ensure they were meaningful for their specific programs. As such, the performance measures are not uniform across grantees.
A majority (83 percent) of state grantees demonstrated overall improvement in four of the six benchmark areas during the 3-year period. The percentage of state grantees demonstrating improvement in each benchmark area ranged from 66 to 85 percent across benchmark areas:
Improvements in maternal and newborn health (81 percent)
Prevention of child injuries, child abuse, neglect, or maltreatment, and reduction of emergency department visits (66 percent)
Improvements in school readiness and achievement (85 percent)
Reduction in crime or domestic violence (70 percent)
Improvements in family economic self-sufficiency (85 percent)
Improvements in the coordination and referrals for other community resources and supports (85 percent)
Grantees were challenged by the rapid scale-up of the program; those that failed to demonstrate improvement were subject to increased federal monitoring and received targeted technical assistance (TA) to improve performance in subsequent years. Program improvements in benchmark areas build a foundation for health and development for vulnerable children and families in at-risk communities.
Advancing Home Visiting Through Quality Improvement and Research
MIECHV invested in quality improvement and research activities to advance home visiting. Grantee-led continuous quality improvement (CQI) initiatives (in which grantees evaluate their own programs and identify areas for improvement) and the Home Visiting Collaborative Improvement and Innovation Network (a peer-learning network to share best practices and innovations among grantees) are intended to strengthen home visiting services. In addition, four approaches were used to learn about home visiting implementation and effectiveness: state and tribal grantee-led evaluations, MIHOPE, the Home Visiting Applied Research Collaborative, and the Tribal Early Childhood Research Center.
Technical Assistance: Building Capacity and Ensuring Quality
All MIECHV state and tribal grantees received comprehensive TA to support and build capacity to successfully implement home visiting programs and conduct grant-funded activities. TA efforts were strategically designed to support grantees in infrastructure development to improve service delivery, benchmark performance (including targeted TA to nine state grantees [17 percent] that did not demonstrate improvement in four of six benchmark areas), CQI, grantee-led evaluations, and data systems.
Strengthening Communities and Services for High-Risk Families
Community development and systems building are critical to ensuring an early childhood system of care that is comprehensive, coordinated, and responsive to family needs. State and tribal grantees strengthened early childhood systems of care by collaborating with community service providers to coordinate services and integrate service delivery; building and coordinating data systems; developing centralized intake systems; and providing professional development and training to home visiting staff and, in some cases, the broader early childhood workforce.
Tribal Home Visiting Program
Since 2010, ACF has used the 3 percent set-aside for the Tribal Home Visiting Program to competitively award 25 cooperative agreements to tribes, consortia of tribes, tribal organizations, and urban Indian organizations across 14 states. In FY 2014, Tribal Home Visiting Program grantees served 870 families, 5 times the number served in FY 2012. Tribal grantees provided nearly 20,000 home visits to 3,197 adult participants and children between FY 2012 and FY 2014 and increased their ability to identify and serve American Indian and Alaska Native families and communities.
After up to 3 years of implementation, a majority (77 percent) of tribal grantees demonstrated overall improvement in four of the six benchmark areas. The percentage of tribal grantees demonstrating improvement in each benchmark area ranged from 62 to 85 percent across benchmark areas:
Improvements in maternal and newborn health (62 percent)
Prevention of child injuries, child abuse, neglect, or maltreatment, and reduction of emergency department visits (85 percent)
Improvements in school readiness and achievement (69 percent)
Reduction in crime or domestic violence (77 percent)
Improvements in family economic self-sufficiency (77 percent)
Improvements in the coordination and referrals for other community resources and supports (69 percent)