Years before the COVID-19 pandemic shut down many services in 2020, home visiting stakeholders began exploring the use of virtual visits as a safe, accessible alternative to in-person sessions. Recent events have dramatically escalated the field's need for technology that makes virtual visits possible.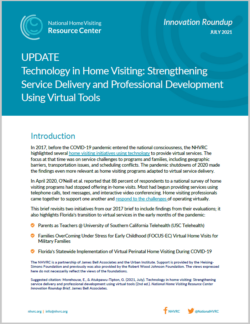 This NHVRC brief revisits a 2017 publication, Technology in Home Visiting: Strengthening Service Delivery and Professional Development Using Virtual Tools. It provides an update on two initiatives that have since completed their evaluations; it also highlights Florida's transition to virtual services in the early months of the pandemic:
Parents as Teachers @ University of Southern California Telehealth (USC Telehealth)
Families OverComing Under Stress for Early Childhood (FOCUS-EC) Virtual Home Visits for Military Families
Florida's Statewide Implementation of Virtual Perinatal Home Visiting During COVID-19
Read the full brief to learn more and to see related items in the NHVRC Reference catalog.