Trusting relationships are at the heart of home visiting, a service delivery strategy that depends on connections between home visitors and families. But what role do connections play even earlier—before families enroll in home visiting?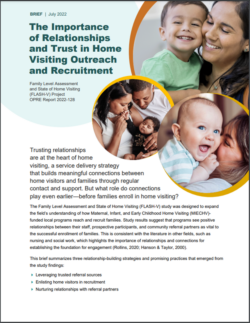 This brief shares relationship-building strategies that may help home visiting programs increase family interest and enrollment in their services. It is based on results from the Family Level Assessment and State of Home Visiting (FLASH-V) study that highlight the importance of positive relationships between programs, prospective participants, and community referral partners for successful recruitment.
The brief focuses on three recruitment strategies and includes examples of how local programs have used each strategy:
Leveraging trusted referral sources. Many programs said endorsements and word-of-mouth recommendations from current or former program participants were their most successful strategies for getting families interested in home visiting. Similarly, most said service providers helped build families' interest in home visiting, which may be due to positive relationships families have with their current providers.
Enlisting home visitors in recruitment. Having home visitors build relationships and trust with families during recruitment may increase the likelihood that those families will enroll. Programs reported that direct contact and personal connection with home visitors early in the recruitment process may positively influence families' enrollment decisions.
Nurturing relationships with referral partners. Programs reported that ongoing communication contributed to the number of referrals received from their top partners. Strategies they used to strengthen relationships with partners include maintaining frequent communication, establishing a clear point of contact, and showing gratitude for referrals. Simplifying the referral process may make the process easier for partners and increase the number of referrals received.