People
Erica Blue Roberts, Ph.D., M.H.S.
Senior Research Associate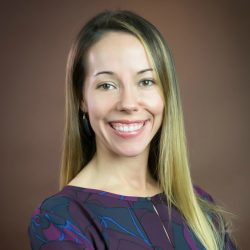 Erica Blue Roberts has more than 10 years of experience in program evaluation and analysis, applied social science research, and technical assistance. She has extensive experience working with the Native American population in public health, evaluation, and participatory research projects.
Roberts is currently the deputy director of the Tribal Evaluation Institute, a project director on the Building Indigenous Resilience in Communities and Homes study, and a data analysis lead on the American Indian/Alaska Native Community Health Aide Program Readiness Assessment Project. Her research skills include—
Managing research and evaluation projects

Providing technical assistance

Contributing to the design of culturally appropriate data collection instruments

Collecting, coding, and analyzing qualitative and quantitative data

Designing, writing, and implementing evaluation plans co-created with tribal clients

Preparing research studies and manuscripts

Conducting site visits

Providing evaluation trainings
Previously, Roberts was a research analyst for the National Cancer Institute through the Graduate Education Diversity Internship Program offered by the American Evaluation Association. She received a Ph.D. in behavioral and community health from the University of Maryland and an M.H.S. from Johns Hopkins Bloomberg School of Public Health.