People
Kate Lyon, M.A.
Vice President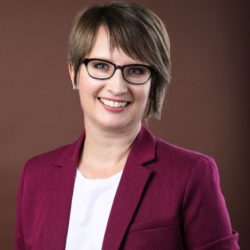 Kate Lyon has 20 years of experience in program evaluation, applied social science research, and evaluation technical assistance. Her areas of expertise include early childhood, child welfare, prevention services, stakeholder engagement, and partnerships with tribal communities on research and evaluation.
Lyon has provided evaluation technical assistance to states, tribes, and community-based organizations receiving discretionary grant funding from the Health Resources and Services Administration and the Administration for Children and Families, including the latter's Children's Bureau and Office of Family Assistance.
Lyon currently directs the Multisite Implementation Evaluation of Tribal Home Visiting, the first multisite, multi-model study of home visiting in tribal communities. She previously directed the Tribal Evaluation Institute, which supports tribal home visiting grantees as they implement rigorous evaluation, performance measurement, data systems, and continuous quality improvement. She was previously project director for an evaluation of Delaware's Promoting Safe and Stable Families Consultation and Support Program. She also served as a site liaison to grantees funded through the Fostering Connections to Success and Increasing Adoptions Act of 2008, conducting a national cross-site evaluation and providing technical assistance to local evaluators.  
Lyon earned an M.A. in applied cultural anthropology from Northern Arizona University.