Some home visiting programs coordinate services with pediatric primary care providers to reach more families and better meet their needs. Opportunities still exist for this practice to be more widespread.
According to the implementation report for the Mother and Infant Home Visiting Program Evaluation, one-third of local home visiting programs have a formal agreement to partner with pediatric primary care providers.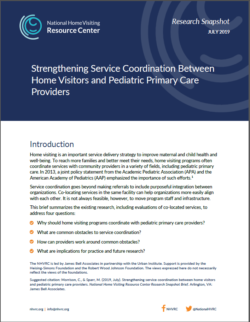 This Research Snapshot brief summarizes the existing research, including evaluations of co-located services, to address four questions:
Why should home visiting programs coordinate with pediatric primary care providers?
What are common obstacles to service coordination?
How can providers work around common obstacles?
What are implications for practice and future research?
It also lists three promising strategies that can be used whether services are offered in shared or separate locations.